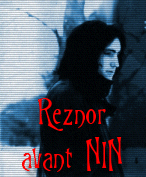 Les groupes dans lequel Reznor a joué avant NIN sont :
Option 30 : C'était un groupe de Mercer, en Pennsylvanie.
The Urge : Ce groupe était un groupe de reprises.
The Innocents
Slam Bam Boo
Hanson : The movie : Reznor a fait des claviers, de la programmation et des sons pour ce groupe.
Lucky Pierre : Ce groupe était celui de Kevin Mcmahon, le fondateur de Prick. Trent a joué en concert pour ce groupe vers 1985/1986.
The Exotic Birds : Ce groupe avait pour membre Andrew Kubieszewski qui joue de la batterie dans la chanson The Downward Spiral.

The Innocents - Livin' On the Street (LP)



Face Un :

Livin' in the street

Freeway Ride

Dora

With you

Heartzone

Face Deux :
Top Secret

Love'll come knockin'

Back in my life

Queen of the border

The names have been changed

Les membres de 'The Innocents' sont :
Rodney Psyka : Vocals / Percussions
Alan Greene : Guitares
Trent Reznor : Claviers
Albritton McClain : Basse
Kevin Valentine : Batterie / Percussions Electroniques



Warning: mysql_connect() [function.mysql-connect]: Unknown MySQL server host 'sql5.ovh.net' (1) in /home/mihalis/www/NIN/db.php on line 70

DB::connect()
mysql_connect
Unknown MySQL server host 'sql5.ovh.net' (1)
DB::connect()
mysql_connect
Unknown MySQL server host 'sql5.ovh.net' (1)






Exotic Birds - L'Oiseau (LP - 1986)
Dancing on the airwaves

Have you heard the news

The meaning of love

This must be heaven

Nothing lasts forever

Fighting fire with fire

Trent Reznor joue du clavier, chante des voix additionnelles et a fait de la programmation de synthés.


Warning: mysql_connect() [function.mysql-connect]: Unknown MySQL server host 'sql5.ovh.net' (1) in /home/mihalis/www/NIN/db.php on line 70

DB::connect()
mysql_connect
Unknown MySQL server host 'sql5.ovh.net' (1)
DB::connect()
mysql_connect
Unknown MySQL server host 'sql5.ovh.net' (1)






Exotic Birds - Exotic Birds (Demo CSS)
Imagination

Day After Day

The Touch

Dance With Me

Every Star Was You

Fashion

Musiciens : A. Kubiszewski, R. Carpenter, T. Reznor, N. Rushe, B. Duncan


Warning: mysql_connect() [function.mysql-connect]: Unknown MySQL server host 'sql5.ovh.net' (1) in /home/mihalis/www/NIN/db.php on line 70

DB::connect()
mysql_connect
Unknown MySQL server host 'sql5.ovh.net' (1)
DB::connect()
mysql_connect
Unknown MySQL server host 'sql5.ovh.net' (1)






Exotic Birds - Day after Day (1990)

Face Un :

13
12 (vox)
London Single
Face Deux :

Halucienda
Upstairs Dub
Vogue after Vogue
Note : Tous ces titres sont des remixes du morceaux "Day after Day"


Warning: mysql_connect() [function.mysql-connect]: Unknown MySQL server host 'sql5.ovh.net' (1) in /home/mihalis/www/NIN/db.php on line 70

DB::connect()
mysql_connect
Unknown MySQL server host 'sql5.ovh.net' (1)
DB::connect()
mysql_connect
Unknown MySQL server host 'sql5.ovh.net' (1)






Exotic Birds - Imagination (CD)
Imagination (single)

Imagination (perpetual)

Imagination (heavy)

Imagination (mental)

Everything Is Different Now (relentless)


Note : Trent Reznor a effectué un peu de programmation de synthés sur cet album.


Warning: mysql_connect() [function.mysql-connect]: Unknown MySQL server host 'sql5.ovh.net' (1) in /home/mihalis/www/NIN/db.php on line 70

DB::connect()
mysql_connect
Unknown MySQL server host 'sql5.ovh.net' (1)
DB::connect()
mysql_connect
Unknown MySQL server host 'sql5.ovh.net' (1)






Slam Bamboo (LP)

White Lies

Cry Like a baby

Produit par Slam Bamboo, Sean Beavan et Bruce Somers.
Ingénieurs du son : Sean Beavan et Bruce Somers.
"White Lies" Mixé par Danny Powers.
Enregistré à "The Right Track" - Octobre 1987.

Slam Bamboo est composé de :

Scott Hanson : Chant
Tim Kirker : Guitare et Voix
Greg Thomas : Basse
Ron Musarra : Batterie
Trent Reznor : Clavier, Programmation et voix additionnelles


Warning: mysql_connect() [function.mysql-connect]: Unknown MySQL server host 'sql5.ovh.net' (1) in /home/mihalis/www/NIN/db.php on line 70

DB::connect()
mysql_connect
Unknown MySQL server host 'sql5.ovh.net' (1)
DB::connect()
mysql_connect
Unknown MySQL server host 'sql5.ovh.net' (1)






Communiqué LP


Trent a joué en Live avec le groupe entre 86 et 87, et il a participé à la réalisation de l'album Communiqué LP en 1998. Il a fait les choeurs sur la chanson "communiqué" (qui est apparue en version retravaillée sur le premier album de prick sous le même nom) et il a fait les choeurs et du saxo sur la chanson "I Need To Get To Know" (qui a elle aussi été retravaillée pour apparaître sur le premier album de Prick sous le nom "Other People").


Warning: mysql_connect() [function.mysql-connect]: Unknown MySQL server host 'sql5.ovh.net' (1) in /home/mihalis/www/NIN/db.php on line 70

DB::connect()
mysql_connect
Unknown MySQL server host 'sql5.ovh.net' (1)
DB::connect()
mysql_connect
Unknown MySQL server host 'sql5.ovh.net' (1)